Call Or Text (270)932-1748    
GAITED Saddlehorse Mare confirmed in foal to Friesian Stallion "Asher Of Satin". She could produce your DREAM horse! Due to Foal in January 14 of 2020 (just a short while away). Will it be a Blue Roan, Bay Roan or Black? Buy this lovely Mare and you will find out in January! Her name is Selena. She is a Bay Roan Saddlehorse Mare with a wonderful smooth gait. Selena is broke to ride and drive. 10 yrs old. Foal will be able to be registered with Friesian Heritage and Sporthorse. Selena does like to move on out for about 15 minutes when you first start out, but then she settles right down to where a beginner can ride her. She has a decent neck rein on her as well. She is 15.1 Hands tall with lots of chrome on this flashy gal. She should produce a real beauty! Price will go up as she gets closer to her due date! Buy her now for $2500.00
Beautiful Friesian Sport Filly
2 year old Friesian Cross filly up for sale. Registered and DNA verified with Friesian Heritage and Sporthorse. Registered name is Sandra of the Sangre's but her barn name is Destiny. This lovely filly just came off 60 days training to drive and she also has been rode very lightly as well. She has Friesian/English Shire/Morgan parentage. This makes for a wonderful sport horse that is suitable for many disciplines. She is a flashy yet forward mover with just the right amount of bone to make her sturdy but elegant. She should excel in Dressage, Driving and possibly jumping or eventing. If you are looking for your next partner to bring on and compete with, This could be Destiny……..Priced to sell currently at $5500.00 but will increase as her training continues.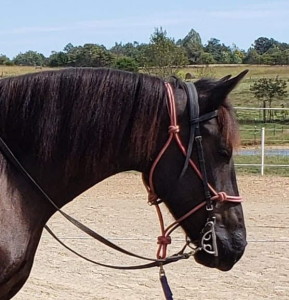 "Joy" -Quarter Horse Mare-
SOLD
Sweet young QH mare with a loving personality. Bred to "Asher Of Satin" Friesian Stallion on 9/7/19 and due to foal in August of 2020. I don't have the papers on this pretty Red Dun Mare, but she is around 5 yrs old. She rides very quiet and would be a suitable walk/trot horse or trail horse. Very slow and easy going. She has some arthritis in a knee so selling as Broodmare sound only! Asking $1200.00 for this lovely Mare.
"Mi Pequena Hermana HB" Barn name "Ziva"
Registered Paso Fino Mare
This is a lovely Gaited Mare. She is 13 yrs old. She has been shown in local shows. Trail rode some and even worked cattle. She is very energetic and fun to ride.
This Mare was bred to my Friesian Stallion "Asher Of Satin" on September 13 2019 (due in August 2020) $1500.00