Call 270 932-1748           Email Us
2017 Friesian Sport Foals Available For Sale
Our Friesian Sport Foals are $4000.00 at weaning time. You can get a discount on the foals if you put a deposit on the foal before weaning time. If you reserve one of are foals with a deposit before weaning, the total price will be just $3500. The deposit amount we require is $500. with the balance of $3000 due at weaning time when you pick your new youngster up. All of our babies will be Registered and have DNA on file with Friesian Heritage and Sporthorse by weaning time. Call or Text us at 270 932-1748 for additional info or to purchase
Use link at end of this page to see our older Friesian Sport Horses For Sale 
Friesian/Swedish Warmblood Colt 
SOLD
This big beautiful Colt has all kinds of potential. He has a long swan neck and a wonderfully balanced body. He is a real people oriented colt with a kind personality. His Dam, "Twiga", is a Registered Swedish Warmblood (also inspected into the Oldenburg Assoc) and I am told she was a very successful Grand Prix horse in her younger years. His Sire is my Friesian Stallion "Asher Of Satin" who has fantastic conformation, a great disposition and a pretty head. This Colt is super smart and moves with a long springy stride. He seems to have fun doing collected canter figure 8 patterns, all on his own, out in the pasture with perfect flying lead changes right at the center of the figure 8! I think this Colt will be well suited for Dressage and/or Jumping. Expected to be 16 Hands or more when grown. Will be Black or Seal Brown. Left Hind Pastern white. He was Born 6/5/17 and he will be ready to wean in early October. * As a side note, I leased his Dam for this foal but the owner of her said she will be retired from breeding since she is 24 yrs old, but she is sound and a wonderful mare and she would let her go with the colt if someone would like her as a school horse. If you would be interested in taking her and the colt then they can go together before weaning time, so you could get them now. It must be a good home for this Mare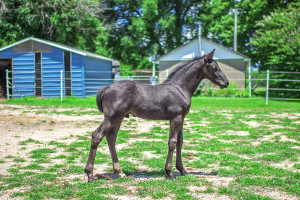 3/4 Friesian-1/4 Spotted Saddle Colt
SOLD
This Colt is stunning! If you want a Friesian look and build then this is your guy. He is as upheaded as his Friesian Sire, Asher Of Satin, and has his beautiful head and topline as well. Expected to be Black, no markings, should be 16 hands.  He has a presence about him that takes your breath away! Will be suited as a Dressage or Driving prospect. His Dam, "Rain Dance", is a Friesian/Spotted Saddle Horse with her Friesian lines that include Wander and Peke! He was born 6/11/17 and ready to wean mid October. 
First Video taken at 2 months old

Current photos on 9/20/17
Friesian/Saddlebred Filly
SOLD
Pretty Bay Filly with a powerful body and a feisty personality. Super smart and very forward moving. Everyone that's sees her says Dressage prospect! Bay with a small white star and should be 16 Hands. She is has a very well balanced body and good knee action. Her Dam, "Silly Filly",  is a very elegant Saddlebred and her Friesian Sire is "Asher Of Satin". She was born 6/30/17 and will be ready to wean the first of November.
Current photos from 9/20/17